Agenda 21
Florida Constitution Party State Chairman,
Bernie De Castro,
Sounds The Alarm About…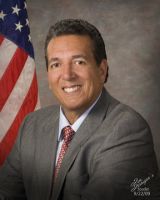 Bernie De Castro is the State Chairman of the Constitution Party of Florida. In 2010, he was the first Constitution Party US Senate candidate to ever qualify for the ballot in the Sunshine State. He ran an excellent campaign and did an outstanding job of representing the Constitution Party. As part of his ongoing efforts to improve the outreach of the Constitution Party in Florida and across the country, De Castro has established a studio to produce videos to promote the Constitution Party as well as discuss the important issues of the day. This two-part video production (about 28 minutes total) provides an insightful background to and alarming overview of the program known as "Agenda 21."
Agenda 21 is an issue with many members of our party are already well aware and which a number of Constitution Party candidates made an issue in 2010. It continues to be a key issue of concern for Americans, though it is largely neglected by the media and is therefore, unfortunately,
virtually unknown to the general public.
"Agenda 21 is the most dangerous threat to America's sovereignty that is coming at us like a whirlwind and yet so few Americans are aware of this diabolical threat to them and their families. I have produced a two-part video on this subject. Please take a few minutes to educate yourself about Agenda 21 and then please pass this on to your circle of influence"–Bernie De Castro
YouTube Part I
YouTube Part II