Defending Western Civilization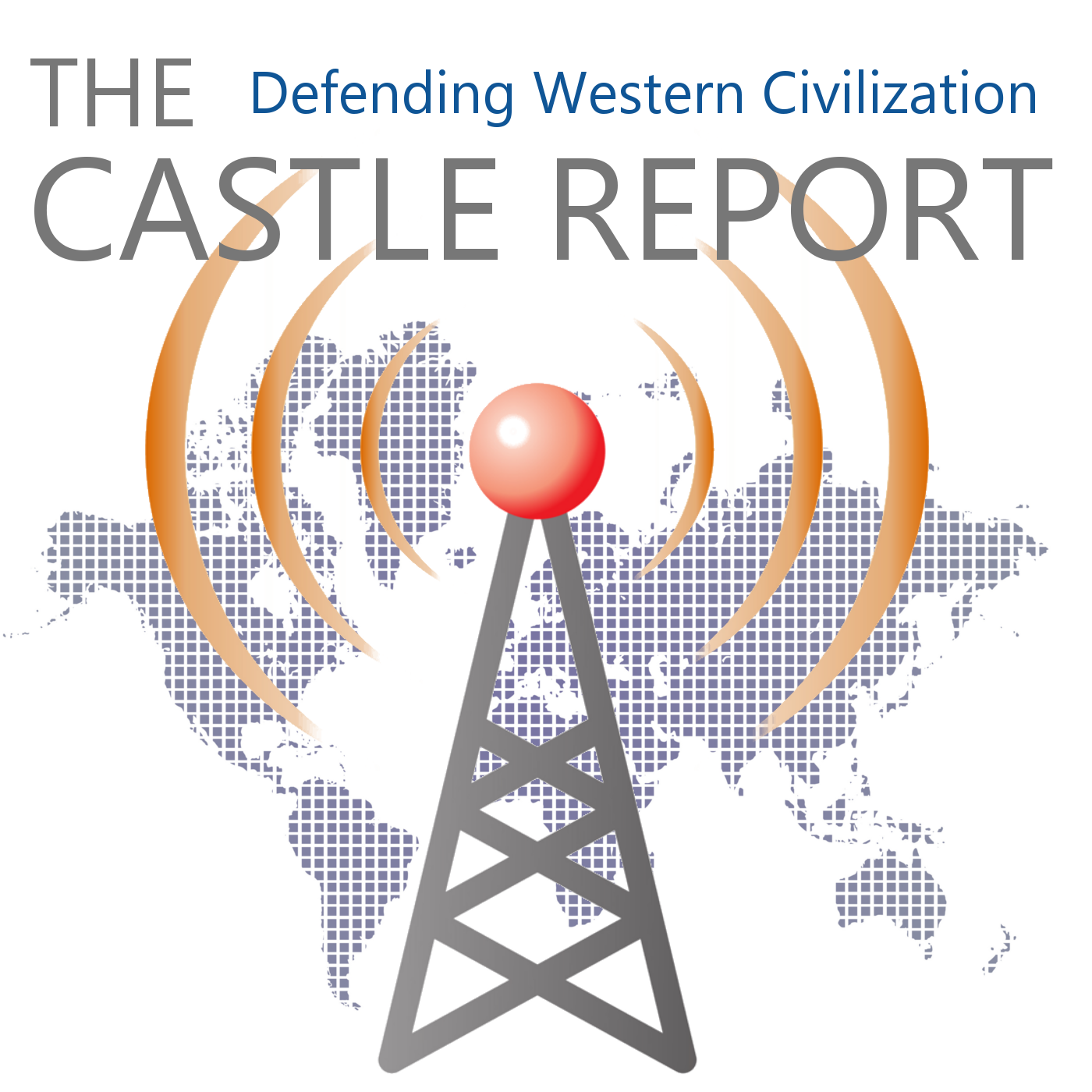 Our Coming Crisis

Darrell Castle talks about the arrival of a new crisis which he believes is headed our way and is inevitable due to the resistance to the restrictions of the COVID response; thus needed to keep the people terrified, inline, and obedient. Transcription / Notes OUR COMING CRISIS Hello this is Darrell Castle with today's Castle Report. This is Friday the 23rd of July in the year 2021 and on this Castle Report I will be talking about the arrival of a new crisis which I believe is headed our way and which I believe is inevitable. People are starting to resist the restrictions of the COVID response because they can see that the restrictions are not based on science and in many cases are anti science. Crisis after crisis will therefore be necessary to keep the people terrified, in line, and obedient, The Castle Family enjoyed its family reunion last weekend which was held at a beautiful mountaintop setting in East Tennessee. I'm not sure how many were there but we had food for fifty and it was mostly gone. We had a good time together catching up on each other's lives and remembering those no longer with us. The family daughter remains in the city of angels with a new mask mandate in place. Speaking of mask mandates, those are probably the most resisted of the responses to the COVID virus. The people in authority and those who slavishly follow their dictates can no longer point to masks and tell us to follow the science, and most people know that now. Some people wear them when requested just to prevent a disturbance but some resist wearing them which occasionally results in violence. A retail store can refuse to admit you or tell you to leave, but trouble happens most often when the one refusing the mask is in a closed environment where he can't just leave such as an airplane in flight. Over and over reports of "disturbances" aboard airplanes in flight are being reported to the extent that they are commonplace. More than 100 such disturbances occurred in the last week the airlines report. The airlines are reacting by becoming more draconian not less. The point is that the most obvious uniform of the virus is being refused by a great many people. That is an indication that going back into crisis lockdown mode will also be resisted. The vaccines were supposed to solve the problem of future worry about the virus but so far, they have not lived up to expectations. Many remain suspicious of taking experimental, barely even tested, drugs into their bodies. The wise elite seem very concerned about those who have refused their shots and appear determined to give us their drug whether we want it or not. The last figures I saw was about 67% of Americans in total have been vaccinated, but only about 48% of black Americans. When asked the question would you refuse the vaccine under any circumstances, 29% of those identifying as Republican said yes but only 6% of Democrats. I suppose the vaccines are a political statement as well as a medical one. Those figures are unacceptable to Dr. Fauci who now says that we must reconsider vaccine mandates. I suppose that means take the drug, or you will be reduced to the status of a non-person. President Biden has reportedly started his proposed door to door visits to intimidate reluctant people into taking the drug into their bodies. I predict the intimidation will get worse and worse as resistance continues to grow. The intensity of the demands from government are making me more suspicious not less, and I suspect that I am not the only one. I admit that much of what I am saying today is my own opinion although it is based on the best research I can conduct, but one thing is very clear to me. If you do not want the vaccine and you take it because of intimidation, coercion or whatever you call it, you are no longer a free person. Furthermore, not only are you unfree, but you are owned by someone or something. Your body itself is no longer yours to decide the future of how you will live.

What Is Wrong With The U.S. Navy?

Darrell Castle talks about the U.S. Navy and its readiness for combat as determined by a recent Congressional inquiry. Transcription / Notes WHAT IS WRONG WITH THE UNITED STATES NAVY? Hello this is Darrell Castle with today's Castle Report. This is Friday the 16th day of July in the year 2021 and on this Report, I will be talking about the U.S. Navy and its readiness for combat as determined by a recent congressional inquiry. Yes, congress or I should say some members of congress are so concerned by reports coming from the Navy including accidents at sea, fires at sea, cancellations of expensive projects, etc. that they commissioned a study and a Report which is the subject of this Castle Report. The Castle Family is doing well this week as we try to find something of what is left of those things, we used to call normal. We haven't been together as a family in about two years so this weekend we will gather for a reunion. Joan and I are looking forward to it, but the family daughter will unfortunately be unable to leave fortress Los Angeles. There are many things of a current nature that I could talk about today. Things like the long-term dangers of intentionally destroying legal institutions, customs, and traditions to achieve a short-term goal. Things like the President of the United States channeling Joe Stalin, i.e., its not who votes, its who gets to count the votes that matters. Yes, comrade we know, and I know that is why you are so afraid of voter I.D., but Instead, I've decided to continue last week's Report on how this new politically correct world is affecting the U.S. military's readiness. I will confess that I have always loved the Navy. I spent many days being transported around the oceans of the world when I served in the Marine Corps. I've seen the North Atlantic and I've seen the South Pacific all thanks to the U.S. Navy, and that is why my ears always perk up when I hear or read stories about the current condition of the Navy. That current condition is troubling according to members of Congress, so they decided to find out exactly what is going on in the U.S. Navy. Several recent incidents including collisions at sea, a fire that killed some sailors, and the cancellation of a ship building project in which hundreds of millions had already been invested. Families complain to Congress when their kids in the Navy complain to them so Senator Tom Cotton, Congressman Jim Banks, Congressman Dan Crenshaw, and Congressman Mike Gallagher, led a commission to appoint Lieutenant General Robert E. Schmidle, USMC, Ret. And Rear Admiral Mark Montgomery, USN, Ret., to investigate and report back to Congress in writing. The review of the Navy was non-partisan and it consisted of the usual ship tours but more importantly many long form interviews with numerous personal both commissioned officers and enlisted. They sought to get to the bottom of a series of damaging operational failures in the Navy's Surface Warfare Fleet. Can the Navy still fight, and could it defeat the Chinese Navy on the high seas? Congress wanted to know; thus, this review was conducted. Concern ran high and after this review you might have similar concerns. Concern within the Navy ran so high that when asked whether incidents such as the two destroyer collisions in the Pacific, the surrender of a small craft in the Arabian Sea, the burning of the Bonhomme Richard and other incidents were part of a broader cultural or leadership problem in the Navy, 94% said yes, 3% no and 3% were unsure. When asked if the incidents were directly connected, 55% said yes 16% no and 29% unsure. The sentiment among serving officers and men that the Navy is dangerously off course was overwhelming. There were six or seven issues that most of the sailors raised as problematic. Those issues were: 1. Insufficient leadership focus on warfighting. Finding and sinking enemy fleets should be the primary mission of a navy, but for many reasons that is barely taught now.

The U.S. Military is Being Led Into Disaster

Darrell Castle talks about the U.S. military and its leadership specifically the teaching or indoctrination of the troops and the future officer corps, now at the academies, with the doctrine of Critical Race Theory which he argues will be a disaster for military readiness. Transcription / Notes: THE U.S. MILITARY IS BEING LED INTO DISASTER Hello this is Darrell Castle with today's Castle Report. This is the 9th day of July in this the year of our Lord 2021 and on this Report, I will be talking about the U.S. military and its leadership specifically the teaching or indoctrination of the troops and the future officer corps, now at the academies, with the doctrine of Critical Race Theory which I argue will be a disaster for military readiness. The Castle Family had a wonderful 4th of July this past weekend. We enjoyed the spring like weather and the Sunday afternoon cookout but sitting on our deck in the cool of the evening watching fireworks in the distance was the best. I think the family daughter went to her own cookout with some friends in the City of Angels, so everyone enjoyed themselves, and everyone is healthy and virus free as far as we know. Each of the military branches has a chief of staff or commander if you will. The Army, Navy, Air Force, and Marine Corps all together make up the joint chiefs. One of them is nominated by the President to be Chairman of the Joint Chiefs. He is, in effect, the chief military officer in the nation. President Trump nominated Army General Mark Milley for Chairman and he currently serves in that position. General Milley has impeccable credentials for the job both academic and military credentials. Just in a brief inventory he holds a degree from Princeton in politics, a masters from Columbia in International Relations, a masters from the Naval War College, and is a graduate of an Mit international Studies Program, and that is just his education. He served in the 82nd Airborne, the 5th Special Forces Group, the 7th Infantry Division, the 10th Mountain Division and many others. He holds the Combat Infantryman Badge and many other awards too numerous to mention and has deployed to the various war zones this country has fought in since the beginning of his 31-year career. Due to his 31 years of honorable service and his record I can still call him my brother-in-arms. It appears to me, however, that because of his testimony before the House Armed Services Committee last month regarding his order to teach Critical Race Theory to the troops and at the military academies he is in fact a boot licking lackey of the ruling elite. His history of infantry combat and in various command positions in some to the nation's most elite units makes his offense much worse because he obviously knows better and that renders him unworthy of the troops he commands. In other words, when he insists that Critical Race Theory be taught to the military, he knows that he will be destroying unit cohesion and the respect that one soldier has for another as they depend on each other for their very lives in battle. CRT holds that there is an inborn DNA makeup of white people that makes them racists by birth. They should therefore feel ashamed to be white and see no good in themselves nor should they take any pride in the accomplishments of the West with all its racist white privilege. That approach logically will divide and foster animosity and mistrust among the ranks. The mission of the military is far simpler than any theory on race can explain. I don't have 31 years of service as does the General, but I have served as a military officer, and I know that the bottom line is that our young men and women have to kill their young men and woman at a much faster rate than they can kill our young men and women if we are to prevail. We can apply the incredible technology advantages we have over most enemies today as a force multiplier, but ultimately, we still must have people willing and able to confront the enemy on the g...